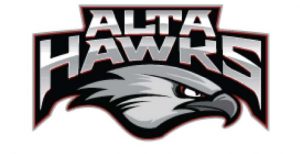 Alta High School
Soar to a New ALTAtude
We are an inclusive learning community with a tradition of inspiring, supporting, and collaborating with students as they prepare to be engaged citizens in their pursuit of continuous success.
Hybrid Schedule – We are moving back to a hybrid, split schedule to help mitigate risk to our students and staff due to the recent uptick in COVID-19 cases in our school and in the Alta Community. Please view the "Upcoming Events" on page 2 for details about the daily schedule. Whether they are learning from school or from home, students are expected to be in class on time. A copy of the Alta Bell Schedule can be found on page 5.
No Grades (NG) – With the frequent changes throughout 1st quarter, we provided little opportunity for students to make up no grades (NG) they may have earned. Therefore, NGs earned during 1st quarter were cleared. Moving forward, however, students will earn and need to make up NGs earned for a lack of consistent attendance. Please see page 6 for the NG policy, which includes options for how students can make up current and past NGs.
Looking to Switch Learning Options? – Students interested in switching from online classes to in-person classes or visa versa will need to work with their counselor to do so this week. After this week, students who make a change are in jeopardy of losing credits toward graduation.
Math Tutoring – Please click the link to view the schedule for math tutoring opportunities. Both in person and virtual opportunities are available.
Free Meals to Fuel Friday Learning – On Thursdays, our lunchroom will double the number of prepared meals, adding an extra sack meal for students to take home. The sack meals will be made available free of charge. These will be distributed at the end of the school day so they can be quickly refrigerated. Nutrition information for the meals can be found at CSD's online lunch menu.
Hawk Stash – The Hawk Stash is up and running! Students can visit it every Thursday after school or see their counselor for a private visitation. You can also help us keep the Hawk Stash stocked with your donations. See page 7 for more details.
Keys to Success – Students: don't forget to apply for the Keys to Success app online to register an account. You have the opportunity to be awarded a scholarship for college or obtain an internship! There is so much good information in the app for you!
Ordering Transcripts – Transcripts can be ordered online by going to the Alta website or by going directly to the Alta Parchment website.
Work-Based Learning Opportunities – Please see the information on page 9 for some great work-based learning opportunities!
Winter Sports Tryouts – All individuals who are planning on trying out for any Winter Sport (Wrestling, Boys and Girls Basketball) must have their RegisterMyAthlete.com profile completed prior to tryouts. If you experience a mandated quarantine over the days of any tryout, contact the coach as soon as possible. The coaches will work with you to provide an alternative day for you to tryout. Make sure you have fulfilled RegisterMyAthlete.com prior. If the school experiences a school-wide quarantine, tryouts and practices for the winter sports will still occur on the scheduled days.
Girls Basketball Tryouts are on Monday, November 9 and Tuesday, November 10 from 2:45pm – 5:00pm. Make sure you register to try out on www.RegisterMyAthlete.com and you are academically eligible from first quarter with a 2.0 GPA and no more than 1 failing grade. You must attend both days of try outs. If you have any questions about Girls Basketball, contact Coach G.
Boys Basketball Tryouts – All boys interested in trying out for basketball need to come to a short meeting in the gym at 2:30pm on November 5th. Tryouts will start Monday, November 9th: 9th & 10th graders 6pm-8pm, 11th & 12th 8pm-10pm. Contact Coach Barker if you have questions.
CSD #TrotForTech Virtual 5K – The Canyons Education Foundation is planning its inaugural Virtual Fun Run, which kicks off Nov. 22-28, and provides an opportunity for participants to complete a 5K that is safe and will benefit members of the community through a fundraiser for Internet connectivity and computing devices for students in need. Registration is $20, and participants will receive a turkey-themed face mask and runner's bib and have have their names entered in a prize drawing. Please visit the #TrotForTech Virtual 5K Event Webpage for more information.
You can now follow us on Instagram under the nametag alta.hawks!
**For more information or to see photos of events, please visit the Alta High Website or follow the Alta Facebook Page.**