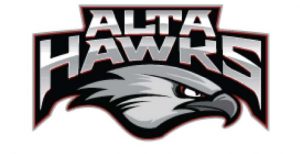 Week of September 28, 2020
Alta High School
Soar to a New ALTAtude
We are an inclusive learning community with a tradition of inspiring, supporting, and collaborating with students as they prepare to be engaged citizens in their pursuit of continuous success.
Online Learning – Due to a rapid rise in COVID-19 cases, resulting in a large amount of our students needing to quarantine, Canyons District leadership decided to move Alta to online learning until October 7th. During online learning, it is highly recommended that students maintain their regular school schedule. Teachers will be virtually available for the first 30 minutes of each period to deliver live instruction or answer student questions. Students can find information about how to connect with their teachers on Canvas or the Alta High website. Parents can follow the directions on page 6 and 7 to create their own Canvas account to observe their student's progress. During online learning, the only approved on campus events are team practices and competitions.
COVID-19 Updates – Please view the COVID-19 updates for the Alta High Community on page 4 of this newsletter each week. This week, this page includes details about the new CSD COVID-19 Response protocols.
Supporting the Needs of Both our Students and our Teachers – In these uncertain times, we know that many of our students are needing additional support due to their individual circumstances. Our teachers are masters at meeting the individual needs of our students; however, please show patience and understanding in your communications with them. Now more than ever, our teachers have been asked to fulfill many roles, all of which are difficult to accomplish within their contract hours. Teachers are working longer and harder than ever, so please utilize the parent resources available to you to find answers to your questions and be patient when waiting for responses to emails sent and phone calls made to teachers. Please also feel free to email or call your students' Assistant Principal or Counselor, as needed.
Picture Day – Due to our transition to online learning, the makeup picture day scheduled for September 28th has been cancelled. The next makeup picture day is scheduled for October 20th.
Math Tutoring – Does your student need some extra help with their math homework? Math tutoring will continue via Google Meet during online learning. The schedule can be viewed on page 5. Students will simply need to open a Google Meet and type the code AltaMathHelp to join.
Alta Counseling's Plan for College and Career Readiness Course is Live! – Many students may have been wondering what this course is and why it's suddenly showing up on your Canvas home page. This course will be used as a communication and information platform for your Alta High Counselors to connect with you. We will be using Canvas for posting important information, announcements, presentations, and anything else we feel Alta students should have to feel college and career ready!
Register for the PSAT! – 10th and 11th graders interested in taking the PSAT will need to register before Oct. 9th at a cost of $20. This is a practice SAT exam and a qualifier for the National Merit Scholarship Program. Please see page 8 for more information about the PSAT and how to register.
Class of 2021 – Submit your Senior Quote here before October 1st! These will be displayed next to your portrait in this year's Alta Yearbook.
Softball Open Field Practices – Girls interested in playing softball this spring should come to an open field practice from 3:30pm to 5:30pm on Wednesday, September 30th. For a full list of open field workouts, follow Alta Softball on Instagram @altahighsoftball.
Work-Based Learning Opportunities – Students interested in exploring various STEAM career options should register for the "I Heart Tech" event before October 7th! This will include workshops, a competition and an awards ceremony. Don't forget to also sign up to participate in the regular seminars sponsored by the U of U Future Doctors and the Utah Center for Legal Inclusion. See page 9 for more about these opportunities.
Utah Food Bank – The Utah Food Bank is available for families in need at The Adventure Church (352 W 12300 S Draper, UT 84020). They serve drive-thru style on Thursdays. Call 801-688-7251 to make an appointment.
You can now follow us on Instagram under the nametag alta.hawks!
**For more information or to see photos of events, please visit the Alta High Website or follow the Alta Facebook Page.**