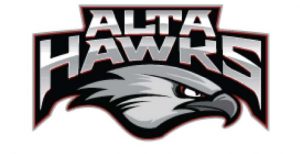 Week of September 14, 2020
Alta High School
Soar to a New ALTAtude
We are an inclusive learning community with a tradition of inspiring, supporting, and collaborating with students as they prepare to be engaged citizens in their pursuit of continuous success.
COVID-19 Updates – Please view the COVID-19 updates for the Alta High Community on page 4 of this newsletter each week.
PPE Materials for Students: Last week, a microfiber cleaning cloth and two additional masks were distributed to students via advisory. Students should use the cloth to sanitize their desk each period and launder it on the weekends. Students who do not have an advisory class can obtain these items from the Alta Main Office.
Water Bottles: We have metal Alta water bottles in three colors for sale in the Alta Main Office for only $8.
Alta Masks: are on sale at Your Masks Now. Use discount code "AHS" and it will take $2.00 off the price!
Creating a Parent Canvas Account – Whether your student is attending school in person on online, a lot is happening on Canvas this school year. Please view pages 5 and 6 for instructions on how to become an observer in your student's courses.
Dress Code Policy – As parents, we ask that you please help to ensure that your student is adhering to the Canyons District board approved dress code policy. A full explanation of this policy can be found on pages 23-24 of the Canyons District Student Conduct and Disciplinary Process Policy.
School Pictures – Picture proofs from the first set of school pictures on August 13th are available to be picked up outside of the Alta main office. You may order pictures on the Lifetouch websites using the picture day ID code in the packet.
School Meals – School breakfast and lunch are now available at no charge to all Canyons District students under a temporary waiver from the USDA. For information about how to obtain these meals at Alta, whether your student is learning in-person or virtually, please see page 8.
Math Tutoring – Please view the schedule on page 7 for math tutoring opportunities for your student.
Alta Counseling's Plan for College and Career Readiness Course is Live! – Many students may have been wondering what this course is and why it's suddenly showing up on your Canvas home page. This course will be used as a communication and information platform for your Alta High counselors to connect with you. We will be using Canvas for posting important information, announcements, presentations, and anything else we feel Alta students should have to feel college and career ready!
Register for the PSAT! – 10th and 11th graders interested in taking the PSAT will need to register before October 9th. This is a practice SAT exam and a qualifier for the National Merit Scholarship Program. Please see page 8 for more information about the PSAT and how to register.
Parking – There are still several parking spots open in the student parking areas on the west side of Alta High. Students can purchase a parking pass for $10 in the Main Office. Students cannot park on the neighboring streets surrounding the school, especially if they are blocking driveways, mailboxes and garbage pickup areas. Students who do so or who park on campus without a parking pass or in the east faculty lot may be ticketed.
Emails from Alta – There have been some families who are not receiving our emails. Here are some ideas about how to fix this: (1) Set up your notification options in the Skylert area in Skyward. (2) Make sure you haven't opted out from receiving notifications. (3) If you ever clicked on "unsubscribed" on a previous email from us, you will need to contact IT at 801-826-5544 to change you back to "subscribed" again. (4) Check your spam/junk folder, especially if you have a Yahoo or Comcast email. Hopefully these hints will help you resolve this issue.
Attention Freshman – Indian Hills Yearbooks for LAST year finally were delivered! If you ordered one, pick it up curbside at Indian Hills on Wed, Sept 16th from 3:15-4:00 or Sat, Sept 19th from 10:00-11:00am. If other arrangements need to be made, please email IHMSmemorybook@gmail.com.
You can now follow us on Instagram under the nametag alta.hawks!
**For more information or to see photos of events, please visit the Alta High Website or follow the Alta Facebook Page.**