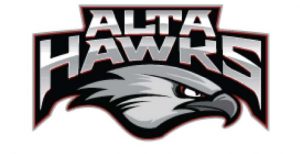 Alta High School
Soar to a New ALTAtude
We are an inclusive learning community with a tradition of inspiring, supporting, and collaborating with students as they prepare to be engaged citizens in their pursuit of continuous success.
AP Testing – The remaining AP Exams will be taken at Alta High over the next week. See the Alta High Counseling Website for more information.
Class of 2021 Graduation Ceremonies – It's official! The Class of 2021 graduation ceremonies will be held on May 26th at 10:00am at the University of Utah Huntsman Center. Each graduate can invite up to four guests. See page 4 for more details. Plan to attend these other Class of 2021 events:
Seniors who qualified for one or more graduation cords can pick them up in the Alta Main Office.
Senior Dinner Dance – Friday, May 14th at at 6pm at the Loveland Living Planet Aquarium. It is required that participating students obtain a negative COVID-19 test. Testing will occur at Alta at 2:30pm on Thursday in the Hawk Field House (a makeup session is available at 7am on Friday morning). If you purchased a ticket, please check your email for more details.
Senior Sunrise – May 17th – 6:00am on the Football Field
Senior Sunset – May 20th – 8:30pm on the Soccer Field
Final Farewell Closing Social – All Alta students are invited to the Final Farewell Closing Social on May 21st 8:30pm in the Football Stadium – Food Trucks, Alta's Got Talent, Fireworks, and much more!
Yearbooks will be pre-sold through Monday, May 17th in the main office. Cost is $60. After that, all remaining books will be sold on yearbook day, Tuesday, May 25th on a first come, first served basis. We have fewer than 200 books left to sell, so don't delay. Check your student's skyward account to see if you have already pre-purchased a book.
Drill Team Tryouts – Alta Drill will be back for the 2021-2022 school year! Tryouts are this week. Find more details on the Alta Drill Tryouts webpage.
Cheer Parent Meeting & Tryouts – Alta Cheer will hold their parent meeting on May 11th, and tryouts for the 2021-2022 season will occur at the end of this month. Students interested in participating can find more details on page 5.
Girls Soccer Tryout Meeting – Students interested in trying out for the girls soccer team should plan to attend a meeting on Friday, May 14th at 10:00am in Coach Hyer's Room 2121. Conditioning week is July 19th – 22nd. Tryouts start on Monday, July 26th at 8:00am.
Alta Soccer Summer Camp will take place June 1st-3rd, 2021. Click the links below for details and to sign up!  
7th to 9th graders     
1st to 6th graders
Summer School Opportunities – We finally have information about the Summer School options for Valley, Jordan High and Canyons Virtual High School. Please make sure you come see your counselor before the end of the year so we can help you pick the credits you need to make up this Summer. See pages 6-8 for more information about each of these options.
Alta PTSA is filling spots for next year's board and invites you to sign up! You can help our school community in meaningful ways even if you are only able to offer small amounts of time. Please check out this link and sign up by May 15th.
End of Year Textbook & Chromebook Return – All library books are due May 13. Students will be returning textbooks and English novels on May 17 & 18 in their classes. Parents and students will receive a list of all items checked out this week. Senior students will be returning their Chromebooks in their English class May 19 or 20. Students in grades 9-11 who are returning to Alta next year will keep their Chromebook for the summer.
Keys to Success Live Assembly – Students are encouraged to watch the live Keys to Success Virtual Assembly on May 14th at 3:30pm. Keys to Success will host this livestream to recognize scholarship recipients and reward students who watch the assembly video.
Learn to Code Summer Program – Check out page 9 for information about an exciting summer program opportunity for students.
Keep up with all that is happening at Alta High School. Like us on Facebook, follow us on Instagram (@alta.hawks) and frequently check the Hawkeye Online Newspaper for updated stories!