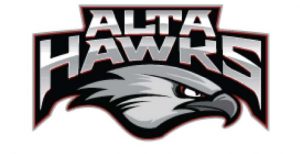 Alta High School
Soar to a New ALTAtude
We are an inclusive learning community with a tradition of inspiring, supporting, and collaborating with students as they prepare to be engaged citizens in their pursuit of continuous success.
School Schedule – We are on a 4-day, in person school week with a short review activity for students to complete at home on Fridays. Therefore, we will not have a late-start day on Tuesdays. Due to a need to distance with all students in the building, we will be on a 3-lunch bell schedule. You can view a copy of the adjusted bell schedule on page 5.
Online Learning – Even though all students are returning to school, we know that some will still need to learn from home from time to time due to sickness or quarantine. When learning from home, students can keep up with their classes on Canvas following the guidelines sent out last week. They can expect 40-90 minutes of work per class in one of the following formats: flipped, blended or synchronous.
Math Tutoring – Please view the schedule on page 6 for math tutoring opportunities. Both in person and virtual opportunities are available.
AP Students and Parents – The window is now open to register and pay for the 2021 AP exams. This is a TWO STEP process and both steps must be completed prior to November 1st to avoid paying additional exam fees. All the information you need, including a registration tutorial, is available on our Counseling website: https://altahscounseling.weebly.com/ap.html. Please contact Alta's AP Coordinator, Shannon Kershaw (shannon.kershaw@canyonsdistrict.org) for additional assistance.
Graduation Orders – Jostens, your official graduation and class jewelry supplier, will be at school taking orders for senior graduation/accessories and class jewelry on Wednesday, October 28th from 7:00am to 1:00pm in the commons area. It is imperative that you order on Wednesday, October 28th to ensure that you get your pre-delivered items (tassels, sweatshirts, etc.) and that we reserve the correct gown size for your graduation in the spring. If your student did not receive a graduation packet last week, they are available in the main office.
Free Meals to Fuel Friday Learning – On Thursdays, our lunchroom will double the number of meals we normally prepare, adding an extra sack meal for students to take home and enjoy on Friday. The sack meals will be made available free of charge for as long as federal grant funding remains in place. Efforts will be made to distribute the meals at the end of the school day so they can be quickly refrigerated. This is important, as the sack meals will contain perishable items. Nutrition information for the meals can be found at CSD's online lunch menu.
Hawk Stash – The Hawk Stash is up and running! Students can visit it every Thursday after school or see their counselor for a private visitation. You can also help us keep the Hawk Stash stocked with your donations. See page 7 for more details.

The Utah Promise Scholarship Program fills the gap to cover tuition for any student who receives the Pell Grant but still owes tuition.

Ordering Transcripts – Transcripts can be ordered online by going to the Alta website or clicking on this link: https://www.parchment.com/u/registration/24401/account. See instructions on the flyer on pages 9 and 10.

Girls Basketball Try Outs are on Monday, November 9 and Tuesday, November 10 from 2:45pm – 5:00pm. Make sure you register to try out on www.RegisterMyAthlete.com and you are academically eligible from first quarter with a 2.0 GPA and no more than 1 failing grade. You must attend both days of try outs. If you have any questions about Girls Basketball, contact Coach G.

Job Opportunity with Code Ninjas – Code Ninjas in Draper is looking to hire high school students! See pages 9 and 10 for more information.
You can now follow us on Instagram under the nametag alta.hawks!
**For more information or to see photos of events, please visit the Alta High Website or follow the Alta Facebook Page.**