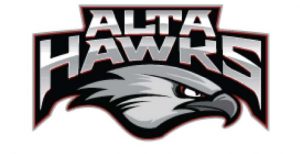 Alta High School
Soar to a New ALTAtude
We are an inclusive learning community with a tradition of inspiring, supporting, and collaborating with students as they prepare to be engaged citizens in their pursuit of continuous success.
Online Learning – Alta High will remain in online learning on Monday and Tuesday before Thanksgiving Break. For more information about the expectations for both teachers and students while our school is online, please review page 5. A copy of the bell schedule to help your student stay on their class schedule while at home can be found on page 6.
Alta's Counselors are Here for You – The Alta Counselors are here for our students during this online period. We know how challenging it is for all of you during this time. If you are in need of some extra support and would like your counselor to reach out to you, please fill out this form.
Math Tutoring – In person math tutoring is suspended for the next two weeks, but virtual opportunities are still available. Please see the schedule on page 7, which also includes the information about how to connect via Google Meet.
NHS Tutoring – Looking for a tutor? The Alta National Honor Society is offering free online tutoring sessions! Please complete this form to be matched with an NHS Peer Tutor. See the flyer on page 9 for more information.
Please view the information about "Helping Students Through Quarantine and School Re-Entry" on page 9.
Hawkeye (school news online) – Go to altahawkeye.org to read more about the newly elected Freshmen Officers, and numerous other new stories submitted by the Alta High newspaper and journalism classes.
Attention parents of Juniors! If you have not signed up for your Plan for College and Career Readiness (PCCR) meeting with your student's counselor, please follow the link appropriate link below, based on your student's last name. Both in person and virtual appointments will be provided. If classes are still being taught online, all PCCR meetings will be held virtually. Please sign up by Tuesday, November 24th.
Blood Drive – HOSA is hosting a Blood Drive with ARUP on Wednesday, December 2 from 8am-2pm. All students, parents and staff members who wish to donate must make sign up for an appointment time online. The donations will take place in a donor bus in the Alta parking lot.
Yearbook Senior Ad information was mailed home last week. Check your mail for information on how you can submit a tribute to your senior to be published in this year's yearbook. All ads will be done online again this year. Begin at jostensadservice.com.
Seniors – Check your graduation requirements in Skyward. If any requirements are in

red

, this means you are credit deficient and your graduation is in jeopardy. Contact your counselor if you have questions on how to take care of your deficiencies.
Basketball Tryouts – Tryouts for both boys and girls basketball will begin on Tuesday, November 24th. Interested students should see the schedule on page 2, complete their Register My Athlete profile, and bring a mask and water to tryouts.
Softball – Girls interested in trying out for softball in the spring, please go to altahighsoftball.weebly.com to sign up to tryout, check the open field schedule, and more!
You can now follow us on Instagram under the nametag alta.hawks!
**For more information or to see photos of events, please visit the Alta High Website or follow the Alta Facebook Page.**